Engineering Service, Inc. » News



News






XenData one of the world's leaders in providing professional solutions for archiving and storing video files, showcased a range of new products at IBC 2012. Among them there was first time introduced a digital archive system including the expandable Qualstar RLS-8500 LTO library, which contains multitude of components for comfortable and easy file management.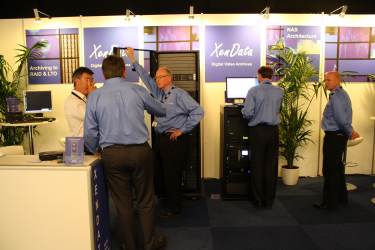 SX-500 Archive Server and Qualstar RLS-8500 LTO library. XenData SX-500 is an archive server, that manages library to create a network attached storage (NAS) device. Archive server volume starts at 81 TB and scales to 711 TB.

At the exhibition there was also demonstrated SX-10 video archiving appliance. This device connects to network and manages tape libraries that hold up to 50 LTO cartridges. It also creates NAS archive appliance that is ideal for video production and post production applications.

X1500 Video Archive System was also showcased on XenData booth. It makes archiving to LTO tape as easy as dragging and dropping files and folders to a tape drive using Windows Explorer on a Windows 7 workstation.

Object Matrix and XenData collaborative project was also presented to the public. Two companies developed together a complete workflow, which allows automating and optimizing data transfer to LTO tapes. Solution integrates MatrixStore storages and any archive server with installed XenData 6 Server software.
« To the list of news
New

Camera-top light

Zylight Newz