Engineering Service, Inc. » News



News






Fujinon introduce new PL Mount Zoom Lenses at the 2009 NAB Show in Las Vegas




Fujinon introduce new PL Mount Zoom Lenses at the 2009 NAB Show in Las Vegas, Nev., April 20-23, 2009 (Booth C7116). The 18-85mm T2.0 (Model Number HK4.7x18F) will be the first of the lenses in the series introduced. It has an anticipated May delivery date. This lens will be shown on working cameras in Fujinon's booth and within Sony's booth (C11001). Three other zoom lenses in the PL series include: the 14.5-45mm T2.0, 24-180mm T2.6, and 75-400mm T2.8 - T4.0 - with an anticipated delivery of December 2009.

Fujinon's PL Series was developed with an advanced optics design to maximize image capture capabilities of current and rapidly emerging 35mm motion picture film and digital cinematography cameras. Fujinon's series of four zoom lenses provide unprecedented focal range choices from 14.5 to 400mm, with fast T stop performance and exceptional optical quality. Uniform front barrel size (136mm) and gear placement, with consistent color matched image quality in four focal ranges facilitate quick lens changes, efficient production, and creative expression.

The PL series are designed for discriminating DPs, camera operators and camera assistants working in high quality productions. With minimal breathing, 280 degree focus barrel rotation, constant and fast T stops, accurate and repeatable marks, and comparable size and weights of the four zooms, Fujinon PL series are ready to meet the challenges of modern digital cinematography. Production applications are endless, but include: high-end features, commercials, scripted television, digital compositing and special effects production.

Fujinon's PL Mount Zoom Series joins Fujinon's growing family of quality Digital Cinematography lenses, including E Series zoom and prime lenses and C Series zoom lenses, designed for 2/3" B4 mount HD cameras.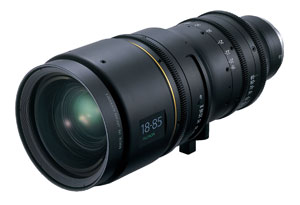 For more information www.fujinonbroadcast.com.
« To the list of news