Engineering Service, Inc. » News



News






At once some new products were presented by Panasonic for the last month: AJ-PCD30 P2 drive, a new three-slot P2 device with a super-speed USB 3.0, P2 Deck AJ-HPD2500 supports 24 bit Audio and support for HD codecs, AVC-Intra 100, AVC-Intra 50 and DVCPRO HD, and also AG-HPX600 P2 HD camera, that offers lightest weight, low power consumpution for a shoulder-mount.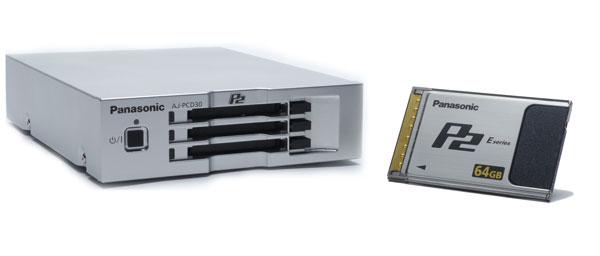 Panasonic Solutions Company has announced the AJ-PCD30 P2 drive, a new three-slot P2 device with a super-speed USB 3.0 interface that delivers the industry's fastest offloads from a solid-state source. The new USB 3.0 standard facilitates dramatically higher transfer rates of up to 4.8Gbps, which achieves offloading AVC-Intra 100 footage at more than 15X real-time, making the PCD30 especially well-suited for use in long-form production. The PCD30 can transfer data from up to three P2 cards simultaneously, making content immediately available to nonlinear editing systems and servers. With three 64GB P2 cards inserted, the device can offer immediate access to more than three hours of AVC-Intra 100 or DVCPRO HD, or more than six hours of AVC-Intra 50 or DVCPRO50 content.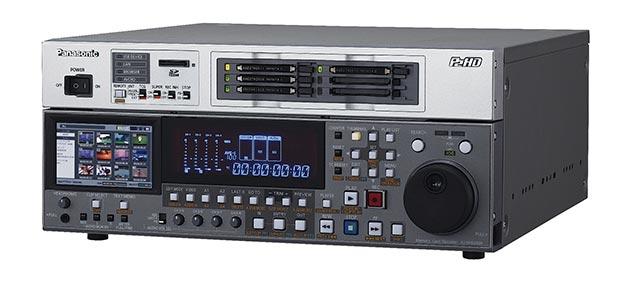 A New P2 Deck Enhances File-Based Broadcasting Workflows with Versatile Editing, Transmission and Networking Functions. Newly supports 24 bit Audio. Three HD codecs supported: AVC-Intra 100 for high-quality 10-bit 4:2:2 images, AVC-Intra 50, and DVCPRO HD: 1080i and 720p recording and playback. 59.94 Hz/50 Hz switchable, 1080/24PsF in/out, native 24p recording with the AVC-Intra codec; Up-/down-conversion between HD and SD; Six P2 card slots and one SD card slot.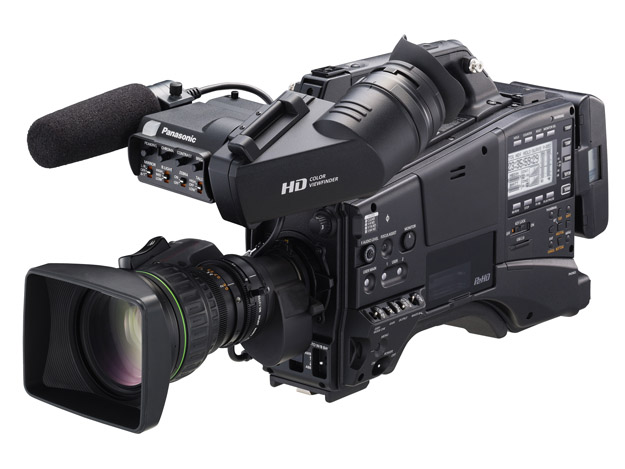 At NAB 2012, Panasonic unveiled the AG-HPX600, a new P2 HD camera recorder with 10-bit, 4:2:2 AVC-Intra recording and the lowest weight of a shoulder-mount unit. Weighing less than 3.2 kg and using low power, the HPX600 combines a newly-developed 2/3 type MOS sensor to produce high-quality HD and SD images. The HPX600 will achieve the high sensitivity of F12 (at 59.94 Hz) and a signal-to-noise ratio of 59dB. It supports AVC-Intra100/50, DVCPRO HD, DVCPRO50, DVCPRO, and DV as standard. It is 50 Hz and 59.94 Hz switchable for worldwide use.
The HPX600 will allow the user to upgrade his camera as new functionality becomes available. This future-proof camera will provide inventive functionality and improved workflows, with options such as wireless metadata input, proxy recording, and variable frame rates (available this Fall), and AVC-ULTRA recording. When available within 2013, AVC-ULTRA will offer master-quality and/or low-bit-rate 10-bit, 4:2:2 recording in Full HD to meet a variety of user needs from mastering to transmission (AG-HPX600 will not support all AVC-ULTRA formats.). The HPX600 also features wireless and wired connection ability with Wi-Fi, USB and Gigabit Ethernet. In addition, a future feature option will support LiveU for video uplink with real time indication of LiveU's transmission status and video transmission quality to camera operator.
« To the list of news
New

Camera-top light

Zylight Newz